Get Ultimate Protection with GRE Tunnel
Through secure communication protocols, GRE Tunnel encapsulates network packets over an added layer and delivers the payload directly from one point to another, encrypting and decrypting at endpoints only thereby giving you total protection.
Overview:
By using Generic routing encapsulation (GRE) tunnel, BlockDOS is able to offer you with an enterprise-grade communication protocol which establishes direct end-to-end connection between any network infrastructure. This allows you to use multiple protocols network backbone which supports a single protocol only. On top of this, GRE tunnel has a lower footprint than rest of the high resource demanding alternatives like IPSec VPN. Most importantly, GRE tunnel is a solid workaround for networks that support a limited number of hops. BlockDOS GRE tunnel makes use of encapsulation to establish direct connection to your server with comprehensive DDoS mitigation solution deployed at the edge of your network.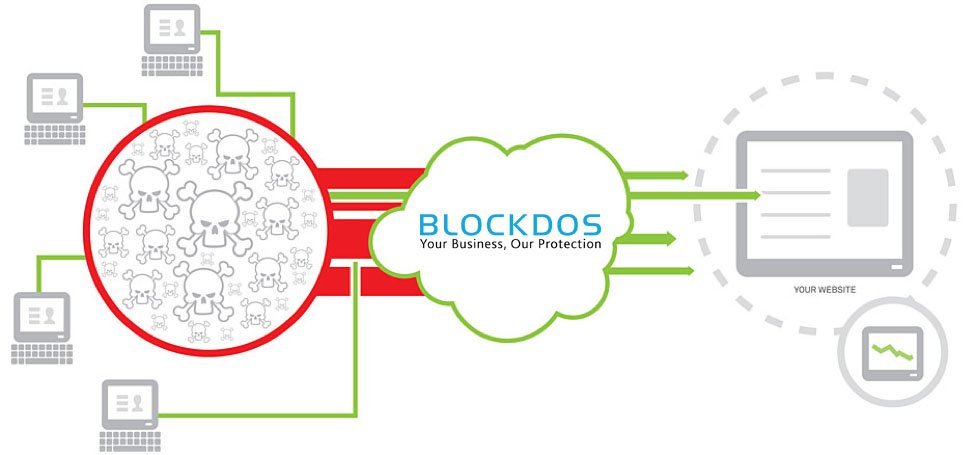 How it works?
When you sign up for our GRE tunnel protection, we will assign you a secure IP from our protected IP range for routing traffic. This would allow a GRE tunnel to be established between your servers and our network. Once GRE tunnel is setup properly (which is usually within minutes), it is used to route clean traffic from our network to your server and vice versa. The next step involves you pointing your DNS to our secure IP.
Once the DNS is propagated, within minutes if the TTL - Time to Live - is kept within 300 seconds, all traffic to your website flows through BlockDOS network. It's inspected by our DDoS pattern recognition system and filtered through hardware firewalls. Once we have produced "clean" traffic, we pass that onto the GRE tunnel which connects our service directly to your website.
So if you are interested in protecting your critical network infrastructure, please contact us today for a free custom quote.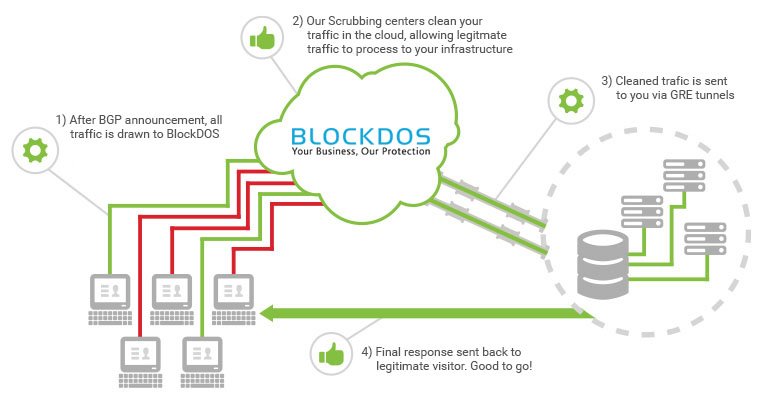 ---
Frequently Asked Questions
GRE Tunneling is the encapsulating of data within packets. The system sends data to the GRE destination using routes defined in the routing table. (Routing protocols like RIP and OSPF can either statically configure or dynamically learn these routes.) It is routed by two endpoints, one to enter and one where it decapsulates. When a data packet is received by a GRE endpoint, it is de-encapsulated and rerouted to its intended destination.
In short, no it's not as it does not use encrypted IP security(IPSEC) or Encapsulating Security Payload(ESP). But without a GRE sending information between segments is not easy, therefore there are solutions to make GRE tunneling secure.
3
How can you make GRE Tunnel secure?
You can use GRE for the private cloud which you can encrypt and use for public clouds. The Encapsulating Security Payload (ESP) of IP Security (IPsec) frames IP packets to secure the payload. To make GRE tunneling secure: 1-Use GRE for the private cloud where privacy is not required. 2-Use IPsec ESP IP tunneling and privacy of data
4
What is GRE Protocol used for?
The GRE protocol is used to connect network nodes in a direct, point-to-point connection. GRE allows two peers to communicate data that they wouldn't be able to share over a public network like the Internet since it is a simple and effective technique of transmitting data across a public network.
5
Why is GRE tunnel needed?
A GRE tunnel must be built before an encapsulated packet can be transported. This is a safe tunnel between two networks—a virtual point-to-point connection that permits direct, "no questions asked," door-to-door delivery. Gre Tunneling is to transmit packets of any form, regardless of the DDoS attack type or target, we can provide protection for any form of network infrastructure, across all communication protocols.